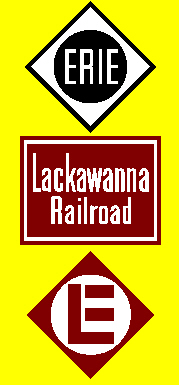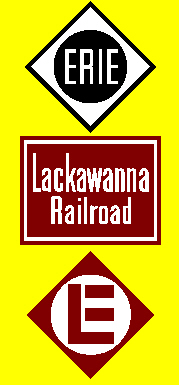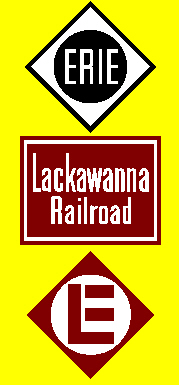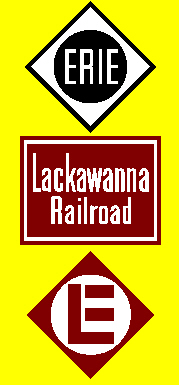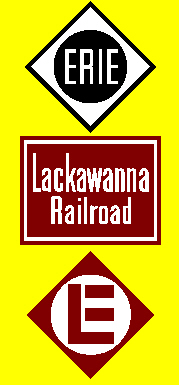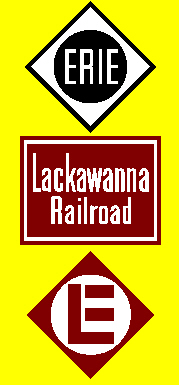 .
Morscher's
Railroad Images:

---
Most of my photographs are from the Ohio, Pennsylvania, and New York areas. These include many early Conrail images. There is also an assortment of railroad photos from the following lines:
B&O
C&O
CSX
D&H
EL
Norfolk & Western
Norfolk Southern
Others
In an effort to better help my visitors locate items of interest, I have sorted the railroad images several ways. These "sorted lists" include: In the future I may add other sorting methods. Please be patient since the "sorted lists" are quite large and take a bit of time to load. Fortunately, you should not have to load a sorted list more than once per viewing session.

Use the hyperlinks in the table below to launch the "Sorted Lists" of images.




After loading the regrettably large "sorted lists", touch the "T" in the gray areas for a thumbnail view or the "L" for a larger view.

The images will open in fresh browser windows. When finished viewing an image, close the image window (do not use the "back" button). This should quickly return you to the waiting "sorted lists".

New 2022: Scans of Locomotive Manuals

---
Railroad Literature: Awaiting new stories.
---
Recent Site Additions:
7-18-2004

Thie

first half of 2004

, lots of Berea stuff, and a little trip to the Ohio Central.

4-17-2005

A trip to Germany, the

rest of 2004,

and few photos from early 2005.

6-6-2005

The

first half of 2005

with stuff from Ohio, Pennyslvania, and a trip to a

Baldwin Diesel

haven in New Jersey.

5-11-2006

At last,

the second part of 2005

.

9-1-2006

Things from around Cleveland in the

first 8 months of 2006

.

11-6-2006
12-6-2006
3-15-2007
5-13-2007

More

Cleveland

area stuff, and a short trip to

Willard

.

7-7-2007

Improved my

macros

to generate the web pages faster and more easily.


9-29-2007
6-3-2008
8-20-2008

A mini update with one roll of slides, and a mini trip to

Falconer, NY

.

6-23-2009

A few more photos from

Faloncer, NY

, and a handful from

Berea

and nearby.

8-11-2009

Uploads of

caption updates

and corrections.

8-15-2010

More

caption updates

and corrections and photos from 2010.

2-7-2011

Resized

all the photos on this web site to a larger size.

2-28-2011

The rest of 2010, the

end of Kokachrome

, and a few photos from 2011.

10-16-2011


Some updates from this year, and a

hijacked 747

from back in 1990.

5-26-2013

I have been too busy to spend time taking train photos, but here is a long overdue update anyway.

6-17-2014

Finally, an update.

NKP 765 steam special

in Rocky River.

6-8-2015

Using my ACTS Monitoring to predict trans in my home town, we have some fresh scenes from

Rocky River

.

5-25-2016

After almost a year, some new uploads from the area around Rocky River, Ohio.

4-3-2017
12-13-2017

A roll of film featuring:

Rocky River Ohio, Creston, Sterling, and North East, PA

.

8-24-2018

Some more images from

North East, PA

, and from around here in

Rocky River

, OH.

10-8-2019

Local photos from

Rocky River, Ohio

and a few from

North East, PA

.

6-29-2020

Database updates, simplified web menu

with more years combined together. More l

ocal photos from Rocky River and nearby

.

8-20-2020
10-3-2021

Local photos from the

Rocky River

, Ohio area.

4-23-2022
6-19-2023

A trip to Scranton PA, to see a PA in PA and goodies on the Delaware & Lackawanna.




Relevant Raiload Links

Please feel free to send me any corrections and suggestions. I have captioned many slides and often have not been totally sure of the locations and specifics from long ago. E-Mail me at: axm11@po.cwru.edu

Return to Main Morscher page.

Morscher's Railroad Page History


Total axle count:
Free website hit counter