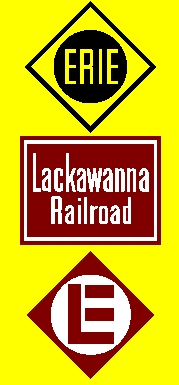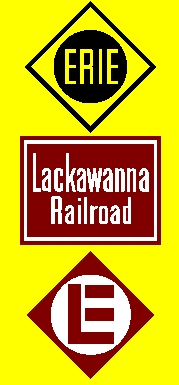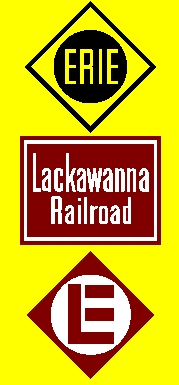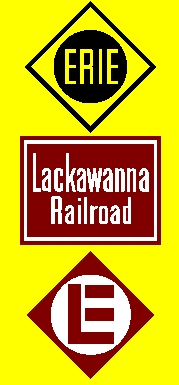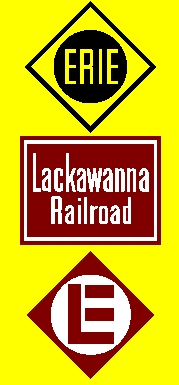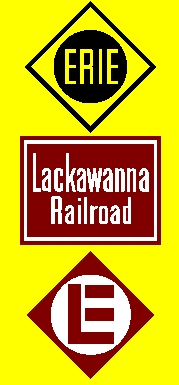 Past additions to Morscher's
Railroad Images:

---
3-16-1998:

The 1977 collection, with photos from Ohio, Pennslyvania, New York and Toronto. Lots of Erie Lackawanna and early Conrail images and a visit to the D&H and the Baldwin Shark diesels.

4-25-1998:

Photos from 1978, with more early Ohio Conrail action. This collection includes large Conrail ALCO Centuries in Cleveland, and scenes from the short-lived Erie Western RR in Indiana, and 1978 Chicago commuter action.

5-31-1998:

Images from 1979 through 1986. I was not too active with my camera during these years, so I lumped the small colletion of photos from these years together. Here we have more Ohio, Chicago, and Illinois RR Museum photos, the ELHS excursion on the Gennessee and Wyoming RR., and some scenes from the museum in the town of North East PA.

6-19-1998:

Photos from the year 1987. Visists to Steamtown in Scranton, PA, Altoona PA, Strasburg, PA, Columbus, Ohio, and the usual northern Ohio spots.

7-17-1998:

Photos from the year 1988. Images from the Kentuky Railroad museum, the Indiana Hi Rail, the Ohio Hi Rail, Lima diesels in Indiana, and Ohio action.

9-14-1998:

The big 1989 collection. Scenes from the Illinios Railroad Museum, the equipment collections of the Anthracite Railroads Historical Society and the Reading Railroad and Technical Historical Society. Also scenes from West Virginia, Pennslyvania, The New York and Lake Erie RR, and of course, Ohio.

10-21-1998:

Photos from the year 1990. Scenes from northeast Ohio, and visits to Altoona, Buffalo, and Washington D.C. We also have some Amtrak dome car photos from the Capitol Ltd. and a few images from Florida and London, England.

11-5-1998

The relatively small 1991 Photo collection is added into the 1990 collection. More images from the Cleveland area with a few more photos from the Illinois Railroad Museum, Janesville Wisconsin, and Minnesota.

11-22-1998

Railroad pictures from 1992. More Ohio photos; an Alco High Hood in Troy Ohio, WI., a Baldwin switcher in Waterloo IN., and CSX in WV. We also have more museum visits to the N&W museum in Roanoke Virginia, and the Illinois Railroad Museum in Union, Illinois. An autumn trip to the former Erie Railroad's Kinzua viaduct on the Knox and Kane. And, the taxpayers' nightmare under the U.S. Capitol.

12-28-1998

1993's selection. NorthernOhio, Buffalo, and Altoona area photos with a little side trip to California and a "wine" train.

2-9-1999

The 1994 collection with the usual northern Ohio material. Plus visits to Buffalo, NY., Pittsburgh and Altoona, PA., Roanoke, VA., and a ride on the Empire Builder across the country.

2-27-1999

The 1995 photos with images from the National Museum of Transport in St. Louis, the California State Railroad Museum in Sacramento, the Napa Valley Wine Train, and more Ohio railroad photographs.

3-11-1999
3-18-1999
3-26-1999

The 1996 images joined into the 1995 collection. Lots of Ohio photographs and a few photos from side trips to Florida and Altoona, PA. Also, a visit to the last FM Trainmaster at the Canadian Railway Museum in St. Constant, Quebec. And finally, a modern day visit to Steamtown in a much changed Scranton, PA.

4-29-1999
5-13-1999

1997 photos from Ohio, Alaska, and even Colorado.

5-24-1999
8-4-1999

The big 1998 photo collection with lots of images from the Cleveland, Ohio area, with a special focus on the trains of Rocky River, Ohio and a Conrail's last full year. Also a trip to Altoona, PA. and a few pictures from my ride on the very fast TGV in France.
Plus, a few images from Germany in 1982.

11-11-1999

The 1999 photos (through 5-31-1999). A New Year's Day outing to Arizona and the Grand Canyon Railway. Many final Conrail pictures, and another trip to the Altoona area with a few scenes from ConPit Jct. More Ohio images with Cleveland Short Line photos as well. And, Wheeling and Lake Erie images from Medina.

2-15-2000

The rest of 1999's images. Many post Conrail breakup photos. Cleveland area action photos of NS and CSX on their new trackages. More Ohio images with Cleveland Short Line photos as well. And outings to Altoona, and Buffalo.

4-23-2000

Completed the rescanning of the 1977 collection at a higher resolution with increased image display sizes (800 x 600).

5-31-2000

Completed the rescanning of the 1978 collection at a higher resolution with increased image display sizes (800 x 600).

9-6-2000

Uploaded photos from the first half of the year 2000. Images from Ohio, Pennsylvania, and the usual concentration of Cleveland area images.

11-9-2000

Uploaded of rescanned photos of the collection of 1979 through 1987.

1-30-2001

Finished the uploading the remainder of the year 2000 photos.

3-22-2001

Rescanned the 1988 and 1989 photos

5-2-2001

Rescanned the 1990 photos. At this time, all non-thumbnail photos are 800 pixels wide or 600 pixels high, depending upon orientation.

5-21-2001

Added a few stragglers, thus finishing the year 2000 again.

7-24-2001

Images from the first half of 2001. Ohio, West Virginia, Roanoke,VA., and Buffalo, NY.

1-22-2002

The rest of the 2001 photos. Raiload and brewery photos from Ohio and Germany.

2-5-2002
6-24-2002

Data updates. First part of 2002, retirement of old railroad literature.

3-19-2003

The rest of the year 2002. Time spent working on my long overdue model railroad has limited my railroad photography activities.

6-23-2003

A few more photos from the year 2002, and, general database updates.

6-24-2003

The first five months of 2003, mostly Cleveland area material.

2-4-2004

Berea, Ohio railroad construction projects.

6-20-2004

A few stragglers from 2003.
Return to Morscher's Railroad Images Page

Please feel free to send me any corrections and suggestions. I have captioned many slides and often have not been totally sure of the locations and specifics from long ago. E-mail me at: axm11@po.cwru.edu

Return to Main Morscher page.

.