Founded by Joseph "Pepi" Morscher, now operated by Herbert Morscher.

Fine German, Austrian, and Yugoslavian meat products.
5846 Catalpa Avenue
Ridgwood, NY 11385-5032

Phone: 718-821-1040


Ask for Herbert Morscher, the "Meat Doctor".

Maps to the Pork Store: Map 1 Map 2 Map 3 .



Photos of one of Morscher's Pork Stores from the 1950's. Click onthe photo for bigger images, or the "(Max size)" for the maximium sized images.


And some interior photos of Morscher's Pork store, taken in about 1963. You can almost smell the wonderful aromas of smoked meats and fine cold cuts.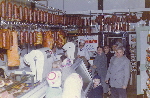 That is my grandfather Josef Morscher furthest to the right, with a hat, while my uncle Pepi Morscher is the guy on the left between the scales. Herbert Morscher is the tall guy with the white hat in front of the Sauerbraten sign. (Max size)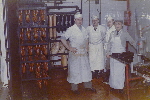 Racks of suasage have just come out of the smoke house. My grandfather Josef Morscher is furthest to the right, while my uncle Pepi is furthest to the left.
(Max size)








The nicely stocked counters at Morscher's Pork store, photo from about 1963. MMMMmmmmMMM.
(Max size), (Max size)








And here, an a black and white photo and an article, both from the "timesnewsweekly.com", January, 2005.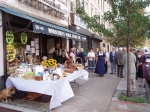 The canines know something good may come their way. Photo may be by Eddie Rabuse September 2006?






Morscher's Pork Store was featured on TV on CBS News New York, December 3, 2021:
Morscher's Pork Store: A Ridgewood Family Business Runs On Hard Work
By Elle McLogan, December 3, 2021 at 1:45 pm. Filed Under: Elle, Elle McLogan, Meat, Queens, Ridgewood Queens,
The Dig With Elle McLogan
December 3, 2021 at 1:45 pm